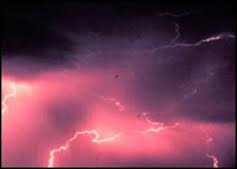 I recently attended a Mastering Alchemy Conference in Washington DC.  We "worked" to bring the Christed Oversoul to the Elementals and dismantled some heavy energy in the area.  My friend Anne experienced energy work and miraculous healing to her knee.  She started the trip with a cane and used a  wheelchair in the airports... and came back, walking normally by my side. Amazing and so happy for her.
Anne and I had a wonderful experience with the elementals on our way home. Our last leg of our flight home was delayed, so it was dark when we took off for 1 hour flight to Sudbury. The Solstice full moon was brilliant and we got to bask in the light up in the air and watch the sunset last until 11pm to the west…..what an amazing sky from 23,000 ft up. There was lots of wind with the air elementals that night too.
We looked out of our window at what looked like "sheet lightening"  to the west of us as we flew home. The fire elementals put on a brilliant show as we watched.. The colors were red, orange, yellow, white and it kept flashing below us as we flew 250mph north. The flashes were happening within seconds of each other and Anne said it was like watching fireworks!
The most wondrous thing is the  elementals stayed abreast of us as we flew…..staying in the same position outside our plane window for half an hour. We were aware that we were the only ones watching as we accessed a "window/portal" to the Elemental realm, and  we gratefully thanked them for the beauty of the show. Since childhood, I've wanted to watch the fairies dance on Mid Summer's Eve, and this year…..a bucket list item was completed.  We are living in Blessed times!!