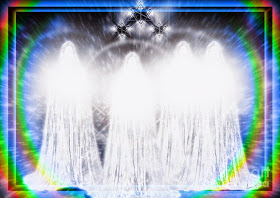 I'm offering a class that i learned "in the beginning" (1990's) of my spiritual journey for self healing.  It opened me to the healing realm of the Nature Spirits, Elementals, the Over Lighting Devas and the Ascended Masters.  The Elementals are very much the engineers of the human creation process.  As it turns out, the Elementals are a co-creative partner with Humanity in the Ascension Process as i learned in Mastering Alchemy. 
The keystone of MAP is its coning. It is set up to assure perfect balance between the involution dynamic (nature) and the evolution dynamic (the White Brotherhood and you). The evolution dynamic supplies the purpose and definition to any thing or action. The involution dynamic (nature) supplies the matter, means, and action for achieving evolution's purpose and definition. The human soul is the force behind the evolution dynamic. Nature is the force behind involution. In health, the evolution dynamic comes from one's soul. It is from our soul that we receive the impulses that define our direction and purpose. It is the soul that gives the necessary data to nature for all that is physically required for a human to fully operate within a given lifetime. Nature then supplies us our body according to these soul-directed specifications. This also means that nature is the engineer of the human body and, like any good engineer, knows how it is supposed to work and how to fix it if it isn't working correctly. When you connect with your medical team, you will do it within a coning, a vortex of energy that includes nature intelligences, the medical team, and yourself. Within this coning vortex, nature is able to stabilize us on all levels with the Brotherhood.
Everyone can work with the program as no special gifts are necessary.  A method of communicating with their team is taught that is easy to use.  The workshop includes the first scanning session where individuals gather the members of their team and learn the code name of their own healing team.  
MAP can be used to sustain balance, well-being and health, as well as for crisis intervension with accidents, or for working on ongoing illness and health concerns.  It is used primarily for healing the physical self and can also be implemented for mental, emotional and spiritual applications.  Learning MAP provides you with a very valuable tool for self healing and well-being. Check it out!!
Blessings
Terri DeMarco
Divine Infusion  www.soulenergyheals.com