The Language of Light
Other wise known as: Light Language, Star Languages, Speaking in Tongues, Soul Language, Angel Speak, Spirit Tongue or Spirit Language, Atlantean, the Language of Creation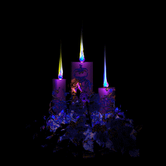 Everyone has Light language. Everyone at ascension will understand this universal Language of Light. Let's explore what we know about the Language of Light. I will call it Light Language just to be consistent for this article.
There was a language before any of the spoken languages were conceived on earth. Some say it is the first spoken Angelic language. It is a vibrational language, which comes to us on the waves of sound – the 9th ray of Creation--through symbolism, crystalline frequencies and light. It is the divine equations, sacred ratios, sacred geometry and resonate frequencies that form the building blocks of all of life. It is a soul language decipherable within the sacred heart of every human. 
Ultimately, I explain it like this. When I'm working on someone, our souls are telepathically communicating with each other (thus Master Sha calls it Soul Language). The Light Language that is spoken verbally as an answer, message, blessing, healing, response…invocation that their soul has requested for their highest good. Sometimes, you will "know" that the message is for the whole group, other times, just for the individual you are working with.
It comes from the stars, and is the galactic language of love and light. It carries encodements for frequency healing and DNA activation. It can be used for healing any issue, for toning, meditation, and aligning subtle energies. Light Language is the gift of higher dimensional frequency healing.
Light Language is a carrier of sonic codes and vibrational frequencies of the 5th dimension. The energy that is transmitted through it can be immense, depending on the speaker. If you are an open channel and you channel your guides, or the Christ Spark is triggered and you are operating from your higher mind and sacred heart, you will be vibrating high enough to channel Light Language.
Light language is a very powerful healing "modality" and a force for change. When you speak it to yourself you are working on self-healing, axitonal alignments, Merkabah and Lightbody activations, inter-dimensional travel, and for your emotional healing, for manifestation, and for sending Love to a loved one.
It is taught that the language cannot be "understood"; that the meaning is always purposely hidden and that the energy itself delivers all the information we need to connect with. Perhaps, the meaning is hidden when it's for the Highest Good to keep it hidden and for when the Languages serve to move us beyond thought and the limits of perception and belief and opinion. We remain free that way and this helps us flow into divine truth by preventing the misinterpretation of words, self-limiting concepts and the "need to know" of rational minds. Instead we FEEL the frequencies and the resulting expansion experience. When thoughts, beliefs and concepts behind words limit us, we are expanded by conscious knowing (Light Language) and this gets us out of our heads and into our hearts. I cannot think it, nor can I remember what I've said…I can only recognize that I've spoken the words before as I hear it. It requires great trust indeed.
It can often start spontaneously (during a session), as it did with me—it took some getting used to and lots of faith and trust to speak it. Some people repress it and it goes away. It will come back if you open to it again. It's perfectly normal for many to open to this gift during a Christ healing group session or an individual Soul energy healing session. As the sound pours out, you can feel the emotions that "underlay" the spoken language/message as your heart feels the truth of the message. This heart felt response may help you understand part of what is being exchanged.
Some people start nodding their heads "yes" to me when I'm speaking to them during a session, like they understand and are encouraging the exchange. In this case I often hear later that they have heard this language somewhere before, or it feels familiar to them. Sometimes, tears will flow and they describe it as feeling "like going home".
The language has many different tempos or dialects or variations of sound, pitch and tone. Some are deep and guttural, some are "clicky" or high-pitched and "chittery" (infants speak this way), some sound oriental, others like nothing you've ever heard before. Those that roll off the tongue but are unfamiliar to the ear are perhaps, Galactic?
Others can "catch" these languages by simply being around people who are speaking them. You cannot teach anybody this language. People open to Light Language or to new variations they haven't spoken before, simply by being around it. It does seem, for some, to require an activation to begin it, or turn it on, like repeatedly sounding: t, t, t, t or ga, ga, ga. Don't worry, the appropriate "trigger" sound will come forward of it's own accord.  It's about chosing to move through the "uncomfortable" and letting go, and letting the sounds of the language your soul wants to speak, come through you into the physicality as sound. It's is not necessary to understand what you are saying, only in the intention of the healing or toning that will facilitate the flow of energy to the right place of your energetic structure.
The more you speak it, the more language comes forth and the more powerful you become in your ability to use it as a tool for healing and spiritual growth. You can speak Light Language to your pets, inanimate objects, upcoming or currently evolving situations, your guides/angels/Creator, others with intent and, of course yourself anytime, whether in crisis or just to keep yourself company in the car. Try singing Light Language in the shower; you will be amazed how beautiful your voice becomes. Remember, it's not you speaking, it's the Divine Sound  of Creation channeling through you, which is in truth,  a divine part of you. It's a gift from Source for the Highest Good for All.