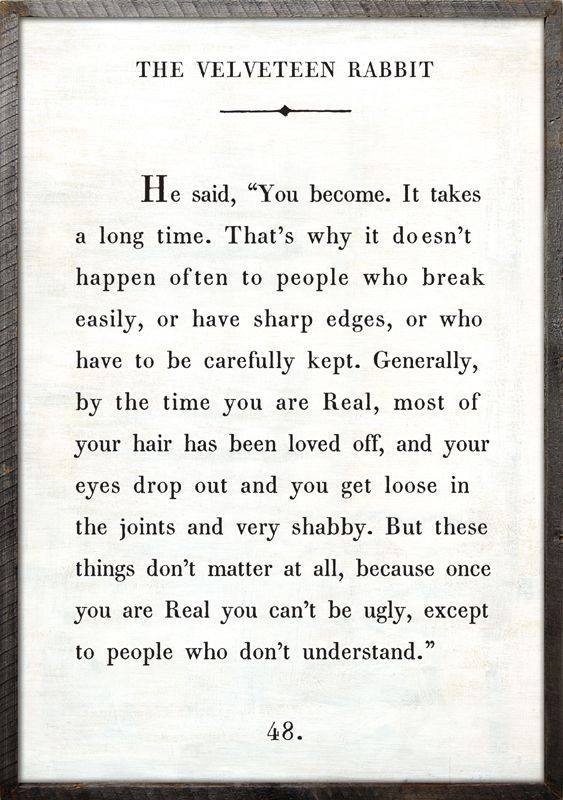 Becoming Real….a Love Story
There are many stories in childhood that teach us that Love can heal and make us real, for example, a real live boy in "Pinocchio" and a real live bunny in the "Velveteen Rabbit," two of my favorites. They contain a teaching of how finding, awakening, being the love that expressed to them...changes them into what they were always meant to be.  Such are the learning of stuffed bunnies or wooden toys ....and human beings.  
I'm remembering the belief of "Love heals" that started in my childhood and has carried me though the years of raising a family.  Now, it's put into action with opening to spiritual awareness and changing consciousness. I recognize that I've been on the pathway of Soul Consciousness, becoming real, as I've studied in Mastering Alchemy online program with Ascended Masters, Archangels and Lords of Light.  I asked "to be given time to understand what is happening to me" and the last 8 years have unfolded in answer to this request. Some people call it enlightenment, or waking up, while others refer to the ascension process, and even I have called it the pathway of self-empowerment. I am following a soul healer's pathway of becoming real.  And love is the Way, the Truth, and the energy pathway (Light). 
The soul healing/awakening process includes discovering where you are "stuck".  Perhaps... within your thoughts where self limiting beliefs you've been taught by family, peer groups, school, church, culture  are based in blame, separation, worry and lack. Very closely related to negative thinking, stuck may be the lower energetic emotions we hold that support doubt, guilt, feed anxiety and keep people stuck in 3rd dimensional mass consciousness of fear.  Much of Soul healing is discovereing, dismantling, clearing, releasing these lower frequencies that stop us from "being"  who we truely are. We heal  by focusin our awareness,  thoughts and emotions  in higher frequencies, balance and resonance with our higher selves, our Soul's wisdom.
This lower vibrating human is not who we are; this is not who we've come here to Be this lifetime. And dismantling lower energies and moving into higher frequencies of self-love, self-trust and mutual care and respect for each other is about becoming real through the energy of love.
1. We are "real" when we recognize, accept and act from the reality that we are an individualized aspect of Soul-Spirit in a physical body. 
2. We "act" real when we hold our focused awareness in the present  NOW moment of harmony, and do not waiver when 3D surrounds us with drama and turmoil for our consideration.
3. Becoming real is the practice of self-love and self-respect when making choices, and then consciously creating the New Earth by following through with our actions, i.e. treating others as we treat ourselves. Being responsible for our "outcomes" in every moment is part of this.
4. We access and act from our Soul's wisdom as we move through experiences and share who we are energetically, resonating the Love of the All That Is as higher wisdom.
5. We become real when we raise our vibration to reflect physical well-being, mental  harmony, emotional balance reflected in congruent relationships, while accessing the frequency of undifferentiated Light of Soul-Spirit.
The planet Earth is moving into higher consciousness with the help of the Elementals and humanity,... for we are truly connected. We are lovingly transforming ourselves into radiant Lightbody and actively assisting with the evolution of the human species. We are Loving ourSELVES as real, soul-conscious beings, for the upliftment of all on the earth and all in this sector of the Universe. What a Love story …unfolding in this lifetime, becoming who we really are…Light, Love, Soul-Spirit in a physical body.
Wishing you all a wonderful Christed Holiday season….may 2015 be filled with love, laughter, well-being and harmony as we become further the Real Love that we are!
Blessings of Christed Light, Terri
www.soulenergyheals.com
Categories: Christ Consciousness, Ascension Process, Soul Healing